The purpose of the Busker Week Celebration is to elevate and honor the centuries old tradition of street performing, also known as "busking". Seattle is unique in having a city licensing code which legalizes busking without permit or audition. Within this context is the Pike Place Market which has, as an historical district, been a Mecca and shelter for buskers since before legalization. For this reason the Market is the epicenter of the Celebrations. The ultimate intent however is to spread the news and the joy of the art form far and wide, to link with other busking festivals and organizations and to seek to work together for a busker friendly 21st century world!
For the ordinance go here.
Busking, because everybody deserves a stage. Because gatekeepers and hierarchy belong in the dustbin. Because music and culture belongs to us and should not have to be purchased or leased, or rented from the outlets of the proper authorities. Because we swim among ourselves and depend on each other and I need to hear you as well as you need to hear me. Because the ceremonies and abilities of our great cultural accomplishments are not to be hoarded but rather to be shared by all as a common treasury. Because we have to right to laugh and cry in public. Because secrets only remain so when they are kept hidden, and all of shadowy dangers neutralize in the light. Because life can be and should be a carnival and carnivals belong to all of us, right? Right.
Or, as Artis the Spoonman said, "Entertainment for everybody, not a select, elite few who are the 'right' color of skin, the 'right' religion, sex, or age, or have the 'right' amount of money in their pocket to be able to afford the show. It's a respectable, honorable, and admirable profession, not to be confused with begging, panhandling, or bumming. It is not 'something for nothing.' It's entertainment for a fair exchange; the audience determines freely what's fair."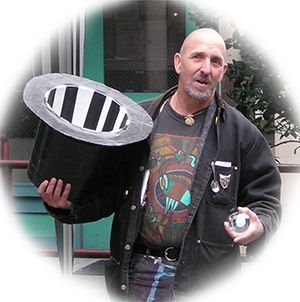 Snail Mail:
Pike Place Market Busker Festival 
1916 Pike Place, Suite 12, #512
Seattle, WA 98101
Facebook:
https://www.facebook.com/PikePlaceMarketBuskers?fref=ts
Twitter: 
https://twitter.com/pikeplacebusker
Emails:
Katy Keenan - kmkeenanis@gmail.com
Jim Page - folkpunch@aol.com