June, July, August, September
This summer we are putting on a series of events in Ballard Commons Park, near the library. The events are free and open to everybody and all are encouraged to show up and participate. Info on the poster below.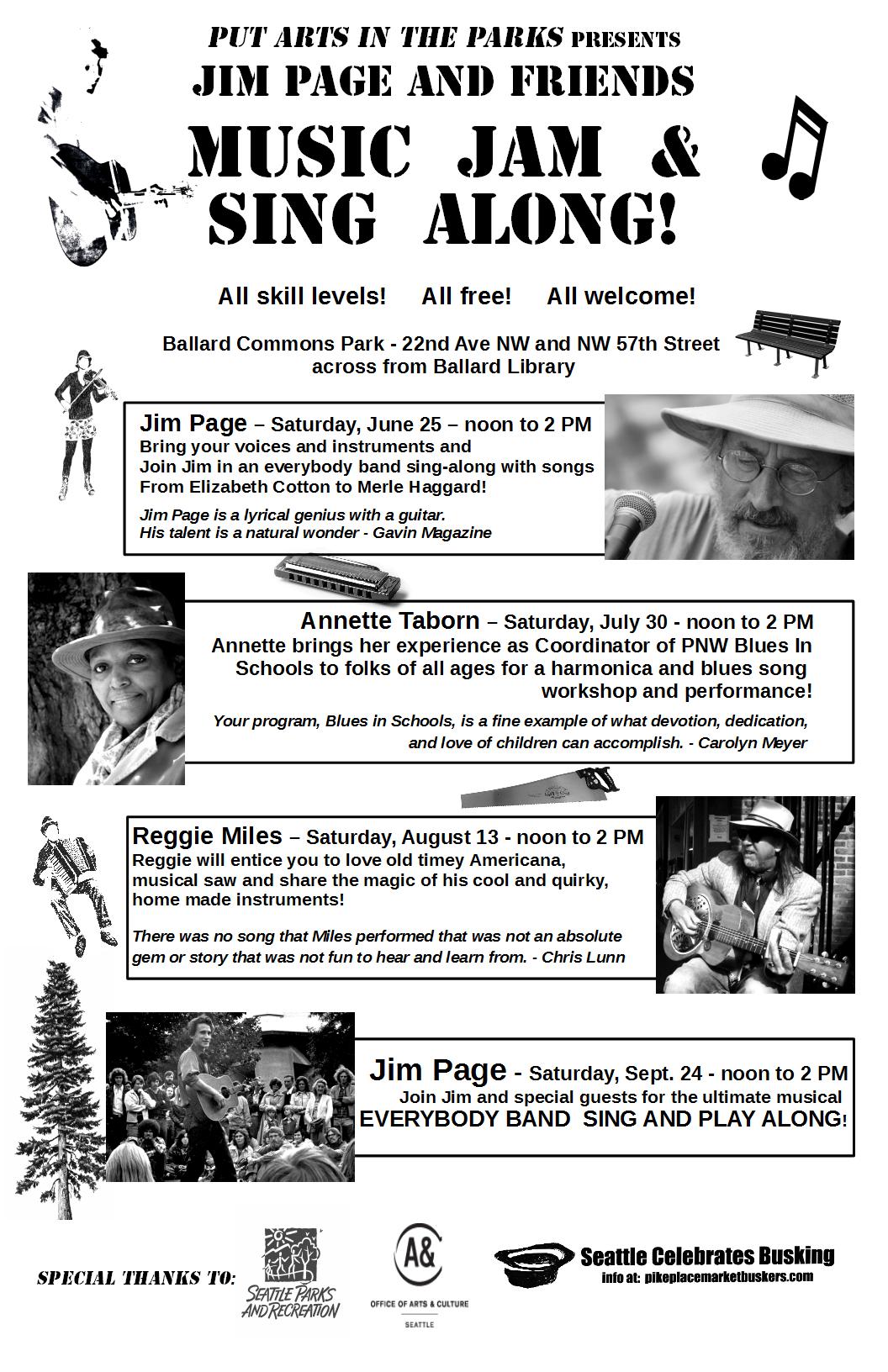 February - March, 2015

Seattle Celebrates Busking!

is wrapping up our City of Seattle Department of Neighborhoods matching Grant with a final series of events in February and March! At the close of our Grant we will have presented over 120 free, unique public events throughout the Seattle's downtown corridor. We have also employed and payed equitably for the services of over 100 diverse and unique "busking" artists of all ages.We worked hard to maintain a community based, volunteer driven, non-corporate model with the mission to truly promote indy busking and public arts in public spaces. Our budget reflected sound and fair distribution of public funding with over 70% going towards direct program costs including artists fees, sound support etc.Through much of the work the MAY Foundation has been our pass thru, fiscal sponsor….Thank you so much to the MAY Foundation.We are really happy to announce that our new fiscal sponsor is the Pike Place Market Foundation, a fitting supporter in light of the fact that Pike Place Market is the recognized haven for busking in Seattle.Please try to attend one of the upcoming public gigs………IN PARTICULAR WE INVITE ALL SUPPORTERS, BUSKERS AND VOLUNTEERS….to Save the Date of Friday, March 27th —— 6-8pm to attend a Community Gathering at the Pike Place Market….Market Atrium. We will have food, information and will be asking for ideas, volunteers and supporters for Busker Fest at Pike Market 2015!
Holiday Busking for December 2014. It was cold but it was good!


Buskers Week 2014
September 14th to 20th


The Pike Place Market Buskers Festival
September 14th, 2014
There's nothing it, not even close!